Courses links
Activities ::: mod_courselinks
Maintained by
Anthony Durif
Mod which allows to display links in your course to other courses (to facilitate navigation between courses for example). This mod is displayed in a label.
Courses links v3.11-r1
Moodle 3.6, 3.7, 3.8, 3.9, 3.10, 3.11
Released: Sunday, July 11, 2021, 5:56 PM
Mod Courselinks
This moodle mod allows to display links to other courses. This mod is displayed in a label.
Goals
This mod goals are to displays in a course links to others courses in order to have a navigation between several courses.
Requirements
Moodle 3.7 or later.
-> Tests on Moodle 3.7 to 3.11.0 (tests on older moodle versions not made yet).

Use Boost theme or a theme which extends Boost theme (use bootstrap).
Installation
Local plugin installation
Then visit your Admin Notifications page to complete the installation.
Presentation / Features
Display links to others courses according three display types for now: - Card: links to courses will be display as cards with their own course image. - List : links to courses will be listed one below the other. - Navigation menu: links to courses will be displayed on a menu where each course will be a menu item.
Be careful, a link is displayed only for users with access rights to this course !
Besides when you want to add a resource only courses you manage will be displayed in the form (filter on the moodle/role:assign "Assign roles to users" capability).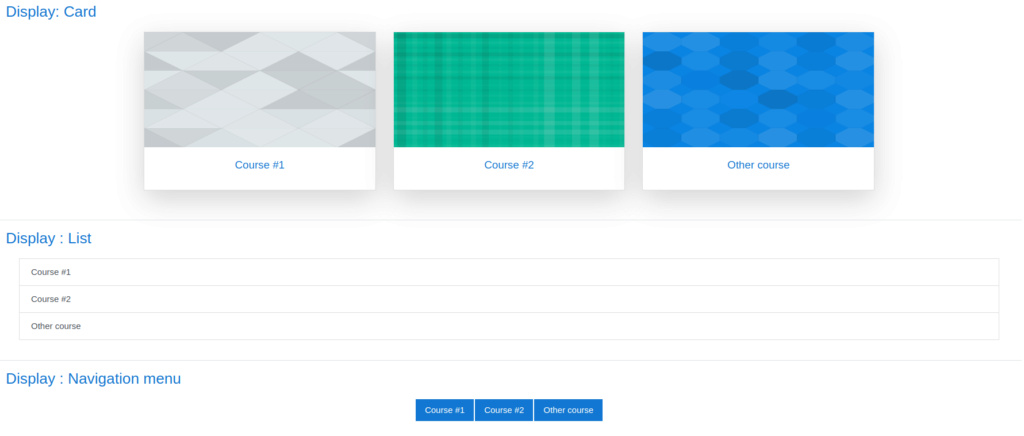 Possible improvements
Add other display types.
Improve responsive.
Add setting to setup if we want to use other courses than only courses we manage ?
About us
Université Clermont Auvergne - 2021.

Version information
Version build number

2021071000

Version release name

v3.11-r1

Can be updated from

v3.10-r1, v3.10-r2, v3.10-r3

Maturity

Stable version

MD5 Sum

527d4ca1e068b164ae09a6e9af6a8a9f

Supported software

Latest release for Moodle 3.6
Latest release for Moodle 3.7
Latest release for Moodle 3.8
Latest release for Moodle 3.9
Latest release for Moodle 3.10
Latest release for Moodle 3.11
Version control information
Version control system (VCS)

GIT
Default installation instructions for plugins of the type Activities
Make sure you have all the required versions.
Download and unpack the module.
Place the folder (eg "assignment") in the "mod" subdirectory.
Visit http://yoursite.com/admin to finish the installation