Resources for Language Teachers Glossary
Feel free to add your own favourite resources to this glossary.
If you add an image, please make it 195 pixels wide so it fits neatly into the "Random glossary entry" block.
Browse the glossary using this index
Special
|
A
|
B
|
C
|
D
|
E
|
F
|
G
|
H
|
I
|
J
|
K
|
L
|
M
|
N
|
O
|
P
|
Q
|
R
|
S
|
T
|
U
|
V
|
W
|
X
|
Y
|
Z
|
ALL
---
Audacity
Audacity is a free and open source cross-platform software for recording and editing sounds.
it's very easy to use: ideal for language teachers wanting to create mp3 audio recordings which can then be uploaded and inserted anywhere in Moodle.
Tutorial: Use Audacity to make audio recordings on a PC.pdf
Comic maker
Get your learners to make their own comics. Make one yourself. Great for encouraging conversation.
---
EDpuzzle video lessons
Make lessons from any video
---
English Placement Test
The English Placement Test at Sapporo Gakuin University is a 50 question multiple choice test for Moodle 1.9. It has 25 reading questions and 25 listening questions. It is designed for streaming low-level, high school EFL learners into ability-level classes for university freshman English classes. It is available free from the Moodle for Language Teaching Repository, located at: http://moodlelang.org.
---
Interactive story writer
Write and publish interactive stories for your classes. Get your learners to do the same in groups. 
---
LARC Language Aqcuisition Resource Center
MILAs
Multimedia Interactive Learning Applications (MILAs) for Learning English as a Foreign/Second/International Language are a range of games and activities for universities, colleges, schools, businesses and other organisations to license. They can also be used free of charge on Matt Bury's site. Matt's blog is very much worth reading.
Moodle Reader
Moodle Reader is a module that provides quizzes on over 1200 graded readers and books for young readers, so that teachers can have a simple way to assess their students' work.
All quizzes are randomized with a time-limit for their completion which allows students to take the quizzes open-book, even at home, while minimizing the possibility of cheating.
Note that there is no reading material for students here apart from the quizzes themselves.
NanoGong Installation Instructions
NanoGong is a contributed module for Moodle 1.9 which allows students and teachers to easily make audio recordings in Moodle
To get the NanoGong installation files go to http://gong.ust.hk/nanogong/downloads_form.html, fill in the form and you will receive an email with a link to their downloads page.
---
Randall's ESL Cyber Listening Lab
Randall's ESL Cyber Listening Lab (http://www.esl-lab.com/) went online in 1998 to provide language learners opportunities to improve their listening comprehension skills in English.
Contact Randall at rdavis@esl-lab.com
---
S4L - Stories 4 Learning
Stories for Learning ('S4L') is free op‍‍en‍‑‍source soft‍‍ware for lang‍uage and lit‍er‍acy and can easily be uploaded to Moodle as a SCORM package.
 
Your own texts can be dis‍played as flipp‍able int‍er‍act‍ive e‍Books and its mod‍if‍ied 'Hot Pot‍at‍oes' mod‍ule gen‍er‍ates ins‍tant jumb‍led sen‍tence puzz‍les tak‍en from the text. It's a great time sav‍er! http://stories4learning.com
Try out coding your own eBook texts here - http://stories4learning.com/sandbox/
 
 
---
TexToys
TexToys generates text reconstruction: WebRhubarb, and text ordering: WebSequitur exercises. By one of the authors of Hot Potatoes. Not free but cheap : € 23.
The SMaLL Portal
...the social media and language learning portal
SMaLL is the intersection of social media and web
technology researchers and practitioners for the world
language classroom. Share and review resources, tools,
activities, and research projects in order to increase
professional development and collaboration in this vital area.
Tubequizard
Authentic listening ability development

---
Tutorials for using Moodle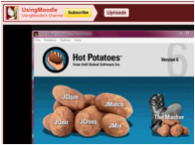 ---
VoiceThread
Group conversations around images and videos. You have to create an account to use VoiceThread
Wortzuordnung
Wortzuordnung is a drag & drop exercise creator. It's a Java app that can be downloaded and used on your computer. The instructions are in German but with the help of Google translator or similar anyone can understand them.

Xerte
Xerte is a free authoring tool for creating a range of online interactive exercises including categories, pairs, hot spot and multiple choice exercises.  Exercises can be created using Xerte Online Toolkits or by downloading Xerte and using the desktop version.
The interface is more swish looking and modern than Hot Potatoes'.  Creating anything beyond the standard exercises does require getting one's hands dirty with coding but there is excellent backup from the Xerte Community.
Xerte examples
Here are some examples of language exercises made with Xerte:
In the Garden

At Home

Pronunciations of vowels

Actions