Hello,
I think this is a bug, but would like to check that I am not missing something obvious, before making a report in the tracker.
In moodle 1.9 users can add resources and activities to old courses but not to new ones, despite being an editing teachers in both.
The details:
Last weekend I upgraded from 1.8.4 to 1.9. I did have a problem with teachers not being able to edit courses, but after a reinstall it seemed that everything was fixed.
You can read about the original issue here
.
However, I have now discovered that in courses that existed prior to the upgrade, teachers in those courses have full editing rights as expected. However, when I create a new course and give those same users editing rights to new courses, they can not see the Add resource or Add activity menus. They see something like this: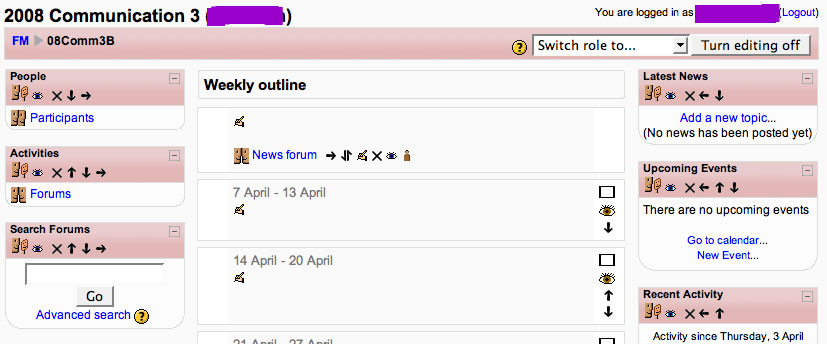 As you can see, the teacher of this course is able to edit various aspects of the course, even change the course settings, but she can not add resources or activities.
What is more, if I now make a user an editing teacher of a course that existed prior to the upgrade, they can add resources and activities. It is only with courses created since the upgrade that teachers can not add resources or activities.
I have checked the setting for "defaultuserroleid", and it's "Authenticated user", which is apparently what it should be.
Interestingly, when I make this user a site wide teacher via Users > Permissions > Assign system roles, they are able to add resources and activities to the above course. However, this is not a solution since it means they can do that to every course in the site.
If users experienced this problem in all courses where they have editing rights, then it would 'make sense', but the bizarre thing is that they only experience this when its in a course that has been created since the upgrade to 1.9.
If anyone has any bright ideas, I'll be very grateful.
system details:
moodle 1.9 (build 20080417)
php 5.2.1
MySQL
5.0.37