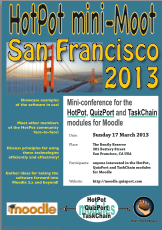 Dear Moodle HotPot fans,
I hope you are well and enjoying using the HotPot / QuizPort / TaskChain family of Moodle activity modules.
You may be interested to know that a HotPot mini-Moot will be held in San Francisco in March 17th (Sun) 2013. It will be a one day event comprising workshops, short presentations and an extended "show-and-tell" session for participants to demonstrate elearning courses and activities that they have created.
This mini-Moot follows on from the successful HotPot mini-Moots held in 2011 (Paris, France) and 2012 (Gothenburg, Sweden). It will be an opportunity to meet other users of the software, and share ideas on how to use it and how it should be developed it in the future. 
Courtesy of some generous sponsorship from Akashi National College of Technology (ANCT), Japan, we have secured funding for the hire of the Bentley Reserve conference center in downtown San Francisco as the venue for the conference. This means that the conference will be free to attend - although you will need to pay for your own food, accommodation and transporation.
The co-chairs of the event will be myself and John Herbert from ANCT. We are keen to spread the word about the event and would be grateful if you pass on information about it to your friends, collegues, Facebook buddies and Twitter followers. Please feel free to download the conference poster (thanks to Wes Cunningham!) and display it prominently and/or pass it on to others who may be interested in attending, supporting or finding out about the event.
More information about the event is available from the moodle.quizport.com website.
We are especialy keen to contact people with local knownledge of San Francisco who could help with logistical matters, such as where to go for the pre-conference dinner
best regards
Gordon